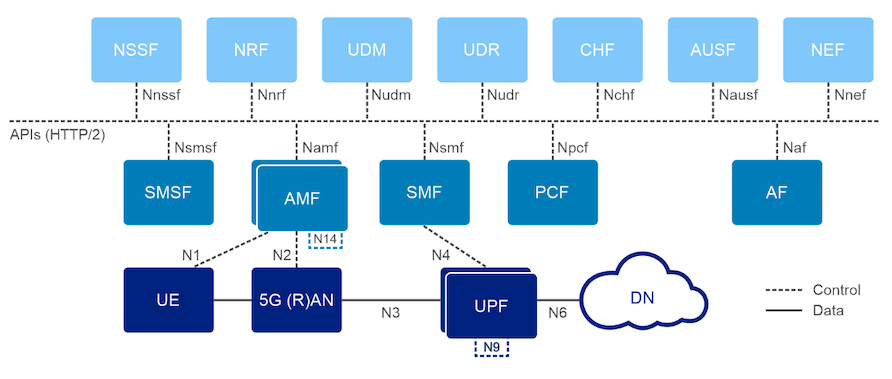 Explore the 5G Core Network (5GC), the backbone of transformative 5G technology, designed to deliver high-speed, low-latency, and highly reliable communication services. It's engineered to support myriad applications, from IoT to autonomous vehicles, making it a cornerstone of modern telecommunications.
Service-Based Architecture: Enables flexible and scalable network services, essential for rapid deployment and innovation.
Ultra-Low Latency: Critical for real-time applications like remote operations and immersive AR/VR experiences.
High Data Throughput: Facilitates unprecedented speeds, enhancing streaming, gaming, and large-scale IoT deployments.
Advanced Network Slicing: Offers customized virtual networks, providing tailored solutions for diverse industry needs.
Robust Security: Incorporates cutting-edge security protocols to safeguard against evolving cyber threats.
Seamless Edge Computing: Integrates with edge computing to process data closer to the source, optimizing response times.
Massive IoT Connectivity: Supports extensive IoT networks, enabling smart cities and connected ecosystems.
Energy Efficiency: Balances high performance with sustainability, reducing the carbon footprint of network operations.
Quality of Service (QoS): Guarantees service quality, ensuring reliable and consistent user experiences.
Future-Ready: Built to evolve with technological advancements, ensuring long-term relevance and adaptability.


The free5GC project is at the forefront of open-source 5G Core Network development, adhering to the latest 3GPP standards. It's a community-driven initiative that emphasizes security, modularity, and network slicing, making it a prime choice for researchers and innovators.
¶ Open5GS: Flexible and Versatile 5G Core


Open5GS offers a versatile and flexible 5G Core Network solution, ideal for custom deployments and cloud-native environments. It supports containerization, NFV, and is compatible with OpenStack, catering to a wide range of use cases from prototyping to deployment.


The OpenAirInterface 5G CN project is part of a comprehensive ecosystem aimed at creating a fully integrated 5G network experience. It's designed for modularity and is widely used in academic and research settings for 5G innovation.