Presently, artificial intelligence (AI) and machine learning (ML) methodologies play a pivotal role in enhancing time-sensitive and resource-intensive operations. A prominent example lies within satellite communication, a sphere characterized by its critical nature. While applications within the on-ground segment possess a degree of flexibility, onboard applications present formidable hurdles due to factors such as power limitations, radiation exposure, and the need for fault-tolerant architectures.
While custom-designed ASICs offer high AI performance, their development is costly. The need for greater AI capabilities due to increased data rates and autonomy has made traditional space CPUs obsolete. To address this challenge, a trend towards utilizing non-qualified COTS devices for AI tasks is emerging. These off-the-shelf components aren't originally intended for space use but provide the necessary computational power. This approach offers cost-effectiveness and availability benefits. However, it also raises concerns about reliability, testing, and device longevity in the harsh space environment.
The market for commercial embedded chipsets with AI capabilities can be categorized into two main segments: embedded GPUs and dedicated hardware co-processors or standalone embedded systems. Notably, numerous devices have been introduced to this market, with industry leaders such as NVIDIA, AMD/Xilinx, Intel, and Qualcomm taking the forefront in launching these innovations.
The Versal family of devices, developed by Xilinx (now a part of AMD), represents a new generation of adaptive compute acceleration platforms. These devices are designed to provide high-performance capabilities across a wide range of applications, including artificial intelligence (AI), machine learning (ML), data center acceleration, networking, and more.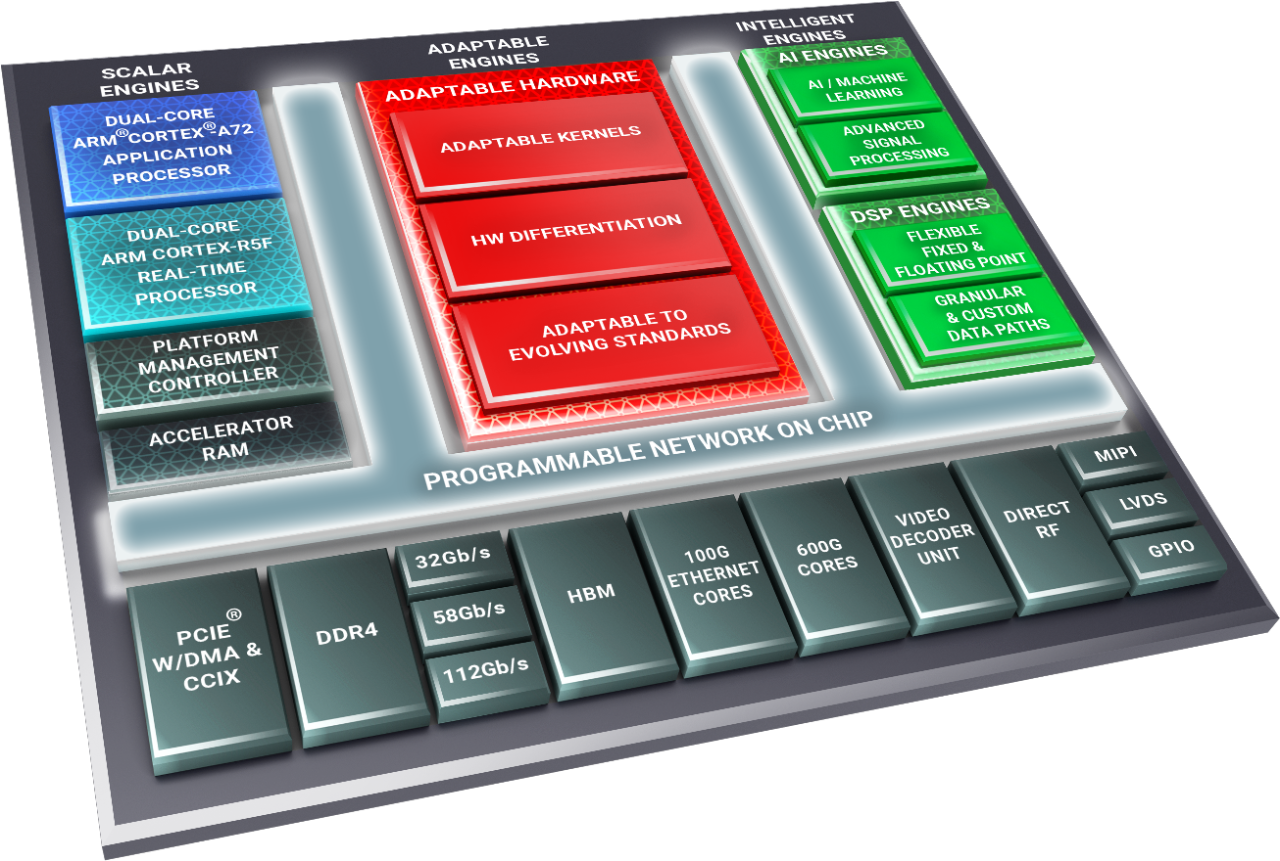 Copyright © 2023 Advanced Micro Devices, Inc.
Versal devices are part of the "ACAP" category, which stands for Adaptive Compute Acceleration Platform. Unlike traditional FPGAs (Field-Programmable Gate Arrays), which are versatile but might require significant effort to program for specific tasks, ACAPs like Versal combine FPGA-like programmability with specialized hardware and software components tailored for various tasks.
Key features of the Versal family include:
AI and ML Acceleration: Versal devices include hardware-accelerated engines designed to excel in AI and ML workloads. These engines are optimized for tasks like convolutional neural networks (CNNs), matrix multiplications, and other operations commonly found in AI applications using the AI Engines and the DSP Engines.
Flexible Programmability: While offering specialized hardware for acceleration, Versal devices also retain the FPGA's flexibility, allowing developers to customize and optimize their hardware for specific tasks.
Adaptability: Versal devices can be reconfigured and adapted on-the-fly to suit changing workloads. This adaptability is valuable for applications where requirements may evolve over time.
High-Performance Compute: Versal devices incorporate high-performance CPU cores, memory hierarchies, and various accelerators to deliver robust computational capabilities.
AI Engines and DSPs: These devices feature AI engines and digital signal processors (DSPs) optimized for tasks like signal processing, AI inference, and more.
Connectivity: Versal devices offer a range of interfaces including high-speed serial links, Ethernet, PCIe, and more, enabling seamless integration into various systems.
Security and Safety: They include security features like hardware-based root of trust, cryptographic engines, and isolation mechanisms, making them suitable for secure and safety-critical applications.
The Versal family encompasses various models tailored for different use cases and grouped in five families, with a sixth in the roadmap ensuring that users can select a device best suited for their specific requirements.

Copyright © 2023 Advanced Micro Devices, Inc.
The Versal Prime series is a versatile solution designed to tackle challenges across different industries with a focus on performance and flexibility:
Data center, it optimizes resources by offloading tasks like compression from primary processors.
Data center networks, it enhances operations by offloading networking tasks.
5G communication, it adapts networks to handle high-bandwidth demands.
Passive optical networks, it supports efficient, low-power designs.
Communications test equipment, it aids in high-performance data handling and analysis.
With its advanced features, processing power, and adaptable architecture, the Versal Prime series addresses a wide array of industry-specific needs.
The Versal Premium series represents a versatile solution tailored to diverse industry challenges, emphasizing superior performance and adaptability:
These devices excel in adaptive beamforming for phased radar arrays, offering precise tracking and guidance in spectrum-congested environments.
They address the escalating bandwidth demands of 5G and wireless technologies, with advanced transceivers and dedicated connectivity IP enhancing metro and core transport networks.
The series provides a dynamic cloud acceleration platform across various workloads, from genomics to machine learning, supported by extensive on-chip memory and compute capabilities.
As data centers expand, Versal Premium enables flexible transport technology with scalable transceivers and robust encryption for secure interconnectivity.
It empowers vendors with cutting-edge communication test capabilities, leveraging AI and DSP Engines alongside integrated transceivers for seamless protocol compatibility.
The Versal HBM series addresses critical challenges with a focus on improving processing and memory bottlenecks. The series offers:
Massive parallel processing through Adaptable Engines and Intelligent Engines, coupled with extensive memory bandwidth via integrated HBM.
Faster and accurate data insights for complex AI/ML algorithms, enhancing performance for data centers and the cloud.
Excels in compute pre-processing and buffering, efficiently handling large-scale datasets for optimal results from fixed-function compute devices.
For next-generation firewalls, the Versal HBM series delivers unmatched scalability for multi-layer network security, maintaining line-rate throughput and low latency through integrated High-Speed Crypto Engines.
It also plays a pivotal role in application performance test equipment by providing essential building blocks for high-speed optical connectivity, enabling interoperability, and robust network infrastructure for compute-intensive applications.
The Versal AI family stand out as highly suitable solutions for implementing machine learning (ML) and artificial intelligence (AI) algorithms due to the integration of AI Engines. These AI Engines play a pivotal role in accelerating and optimizing AI and ML workloads, ensuring efficient and high-performance execution of complex algorithms.
The Versal AI Core series devices are specifically optimized for demanding compute-intensive applications, with a strong focus on digital signal processing (DSP), artificial intelligence (AI), and machine learning (ML) tasks. These devices prove vital in various domains, including:
5G radio and beamforming
Data center compute for handling evolving neural networks.
Smart Cities where they enable real-time video processing applications.
Medical image processing for improved diagnostics.
Advanced radar processing such as active electronically scanned arrays.
Wireless test equipment where their architecture accommodates diverse protocol implementations.
In essence, the Versal AI Core series devices offer a comprehensive solution for a wide spectrum of applications that require high-performance AI, ML, and DSP capabilities.
In the other hand, the Versal AI Edge series introduces revolutionary computing capabilities across diverse applications, spanning from automotive to robotics, UAVs, and medical imaging.
ADAS and Automated Drive, these devices excel in delivering high AI compute performance while adhering to rigorous safety and reliability standards.
Collaborative Robotics benefit from their integration of control, communication, vision, AI, and safety, enabling a modular and scalable approach.
Unmanned Aerial Vehicles and Multi-Mission Payloads, the series optimizes real-time, high-performance tasks in challenging environments.
Ultrasound Imaging, it enhances image quality and analysis while ensuring power efficiency.
Overall, the Versal AI Edge series signifies a transformative leap in computing capabilities, shaping industries with its versatility and advanced features.
The AMD VCK5000 Versal™ development card leverages the power of the AMD 7nm Versal adaptive SoC architecture to optimize a wide range of applications, including 5G, data center compute, AI, signal processing, and radar. With comprehensive support from Vitis™, Vitis AI, and partner solutions, the VCK5000's domain-specific architecture offers remarkable horsepower per watt while prioritizing user-friendliness through C/C++ software programmability for cloud computing.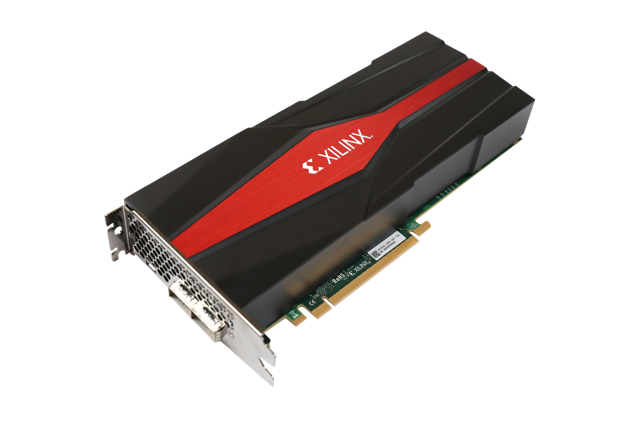 Copyright © 2023 Advanced Micro Devices, Inc.
The VCK190 kit serves as the inaugural evaluation kit for the Versal™ AI Core series, empowering designers to create solutions utilizing AI and DSP engines that offer a remarkable compute performance boost of over 100 times compared to current server-class CPUs. With a range of connectivity options and standardized development workflows, the VCK190 kit showcases the Versal AI Core series VC1902 device, boasting the highest AI inference and signal processing throughput within the portfolio. This kit proves to be an optimal platform, catering to applications necessitating high throughput AI inference and signal processing across various domains, spanning from cloud to edge computing.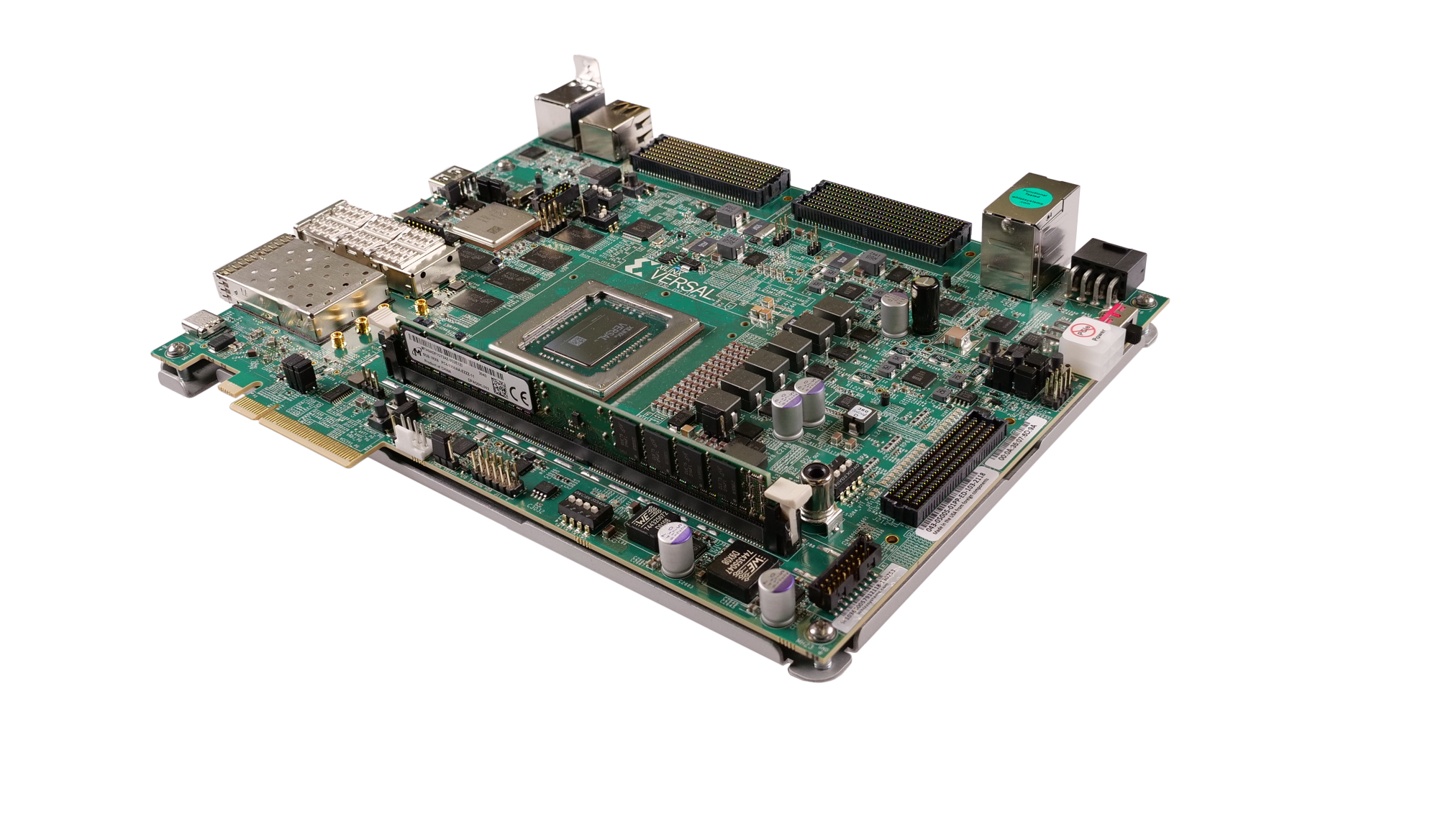 Copyright © 2023 Advanced Micro Devices, Inc.
The Xilinx Versal AI Edge/Prime-based System On Module (SOM) showcases the cutting-edge capabilities of the Versal AI Edge SoC VE2302/2202/2102/2002 and Versal Prime VM1102 device. This SOM features robust processing power with Dual-core Arm Cortex-A72 processors capable of reaching up to 1.7GHz, as well as Dual-core Arm Cortex-R5F processors with speeds up to 750MHz, forming the processing system foundation.
Moreover, the Versal AI Edge/Prime SOM is equipped with a substantial 64-bit 4GB LPDDR4 RAM, ensuring ample memory capacity for demanding applications. The module further facilitates high-speed connectivity through an 8 GTYP high-speed Transceiver, capable of supporting data rates of up to 32 Gbps. This performance prowess positions the Versal AI Edge/Prime SOM as an ideal solution for running resource-intensive applications.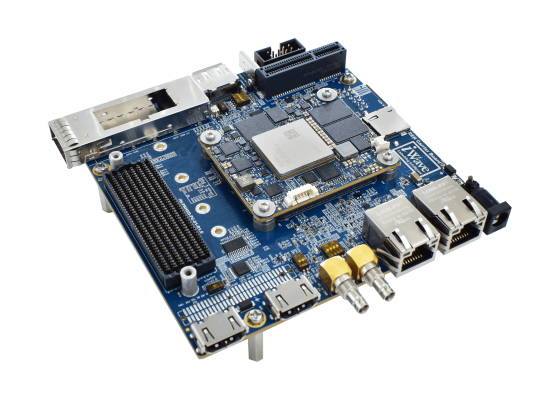 Copyright © 2022 iWave Systems Technologies Pvt. Ltd.